Is America's Drug Policy Genocide?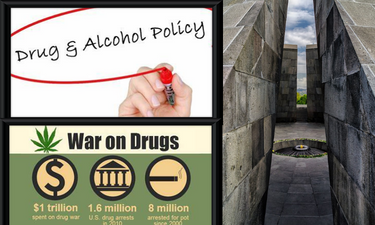 By: Stanton Peele
 * * *
Minority and deprived populations' death rates are increasing precipitously. Covid and drugs have been a major focus for this spate of deaths. But the cause runs deeper.
The latest bad news is "U.S. Life Expectancy Falls Again in 'Historic' Setback: The decline during the pandemic is the sharpest in nearly 100 years, hitting Native American and Alaska Native communities particularly hard."
The average life expectancy of Americans fell precipitously in 2020 and 2021, the sharpest two-year decline in nearly 100 years. . . . The reduction has been particularly steep among Native Americans and Alaska Natives. . . . Average life expectancy in those groups was shortened by four years in 2020 alone. [My emphasis.]
But this accelerating death rate is (1) not unprecedented, certainly for native groups, (2) not limited to Native Americans and Alaskan Natives,  (3) not due solely, or even primarily, to the coronavirus epidemic.
Unnoticed by the majority culture, native groups have been suffering declining health and plummeting life expectancy for years, well before the current pandemic. These premature deaths are due to a wide range of factors: "while excess deaths — those greater than would be expected in a normal year — during the first year of the pandemic were primarily a result of viral infections in these communities, drug overdoses and chronic liver disease [the result of alcoholism] played a comparable role to Covid's in driving up deaths in 2021."
Other major contributing health factors have been obesity and diabetes and resulting heart disease, while suicides are also extremely high among African Americans and native groups.
Although native groups are the focus of the latest sharp decline in life expectancy, previously whites with high school educations have been highlighted in "deaths of despair," along with African Americans. Drug deaths, suicide, heart disease, and chronic liver disease and cirrhosis have also contributed decisively to the decline in these groups' life spans during the pandemic.
What unifies all of these causes of death is the demoralization of deprived sociocultural groups. The evisceration of rural and abandoned industrial American communities has been noted in best sellers like J.D. Vance's "Hillbilly Elegy" and Sam Quinones's "Dreamland." The destruction of stable Black communities in Cleveland, Philadelphia, Detroit, Baltimore, etc. is reflected in growing gun violence and drug deaths in American cities.
Ever-rising drug deaths in the US reached well over 100,000 in 2021. They continue to grow from the 17,000+ figure in 2000. 
Drug deaths have been laid at the feet of an explosion in opioid prescriptions. But opioid painkiller prescriptions have declined steadily since 2012, while drug deaths have continued to grow dramatically,
Another proposed explanation, and solution, is the need for greater dispersal of "medicine for opioid disorder" (MOUD) — buprenorphine and methadone. While there is certainly room for expanding these resources, they are much more readily accessible nationally today than in 2000. And the withdrawal reversal drug, naloxone (Narcan), is now almost universally available.
So why the continuing drug death spiral? And why is it so centered among deprived communities? After all, drug addiction is a disease that affects everybody, isn't it?
Actually, not so according to major world health and scientific bodies. In June of this year, the World Health Organization convened an international virtual symposium to issue its World Mental Health Report. The report revealed internationally declining mental health indicators. 
Beneath the surface, the key theme of the report was the failure of nations to implement community mental health programs WHO has been advocating for two decades.
The global shift towards care in the community has been very slow and truly multisectoral initiatives remain few and far between. The truth is that two decades after the landmark 2001 [WHO mental health] report, and nearly a decade after the world committed to the action plan, the countries and communities that have seen real innovation and advances remain islands of good practice in a sea of need and neglect.
In place of these, led by $billions of expenditures by the US, has been neuroscientific research. Only — as the former director of the National Institute of Mental Health, Thomas Insel, who has been a leader in this approach admits — this approach has not led to measurable gains in US or world mental health. Instead, American mental health outcomes have declined severely since the 1990s, and are now far worse than those in other wealthy nations.
An analysis of disability adjusted life years (DALYs) conducted as a part of the World Health Organization's Global Burden of Disease study ranked the US close to the bottom of 196 nations in terms of disability and death due both to drugs, and to mental disorders:
Among all 196 countries, the US ranks 2nd overall in DALYs lost to all drug use disorders; 1st in DALYs from cocaine use; 3rd in DALYs from opioid addiction; and 2nd in DALYs from amphetamine use.
The US lost 1,703 DALYs per 100K population from all forms of drug use, the second-highest rate of drug-use disease burden in the world. The US rate compares with 340.5 DALYs per 100K in Europe, one-fifth of the US rate. [My emphasis.]
As for mental health:
These very heavy burdens of substance disorders are matched by the high US rankings on other mental disorders. The US ranks 5th in the world in DALYs from anxiety disorders and 11th in the world from depressive disorders. Across all mental disorders, the US ranks 4th in the world.
The National Academies of Science analyzed the US's "world's worst" status in this regard:
The rise is largely attributable to deaths of despair (suicide and poisoning by alcohol and drugs) with strong contributions from the cardiovascular effects of rising obesity. . . . The NAS report notes that mortality is decreasing in a control group of 16 wealthy nations [including countries in Western Europe, Canada, Australia, and Japan], but it does not ask what protects those nations from despair. . . . The 16 wealthy nations provide communal assistance at every stage, thus facilitating diverse paths forward and protecting individuals and families from despair. The US could solve its health crisis by adopting the best practices of the 16-nation control group.
But that hasn't happened in the US. And it's not going to. The worst victims of this American exceptionalism are, and will continue to be, the communities with the fewest resources to start.
So buckle up for a future of continuing mental, health, and substance destruction in an American society that fails to identify and address community-based economic and social deprivation and inequality.
Stanton Peele's memoir is 
A Scientific Life on the Edge: My lonely quest to change how we see addiction 
https://www.amazon.com/dp/0985387246/