Does This Resonate With You?
– Feeling overwhelmed by an addiction?
– Rejecting the notion that addiction is a lifelong disease?
– Seeking an alternative to AA and other 12-step programs?
– Ready to reclaim control and responsibility over your life?
– Wanting to rediscover a life filled with meaning and purpose where addiction has no place?
– Searching for a program tailored to your privacy, fitting seamlessly into your life and schedule?
If you found yourself agreeing to most of these, the Life Process Program is tailor-made for you.
Join the community of thousands who have transformed their lives through our discrete, affordable, and effective online addiction treatment. We understand the journey, and we know how to make recovery real.
What's Included & What Does the Program Look Like
At a glance - Program Overview
Eight Modules
Eight Comprehensive Modules containing detailed reading material specific to your addiction
50+ Reflective Exercises
Engage in exercises that dive deep into your values, motivation, relationships, and beyond
Personalized Coaching
Regular feedback, advice and guidance from your dedicated Coach (Coach-led program only)
Life Story
Dive into your past, understanding emotions and choices that have shaped your journey
Community Connection
Participate in online discussions and meetings, fostering peer support and shared growth
One-on-One Coaching Sessions
Optional Upgrade to purchase 1-1 sessions with your coach
Your Journey with the Life Process Program
Each module is introduced by Dr. Peele, providing insights into key recovery components:
Self Reflection
Values
Motivation
Rewards
Resources
Support
Maturity
Greater Goals
Beyond the video introductions, each module offers in-depth reading material. Dive deep or skim—choose the pace that suits you, then apply what you've learned through thought-provoking exercises.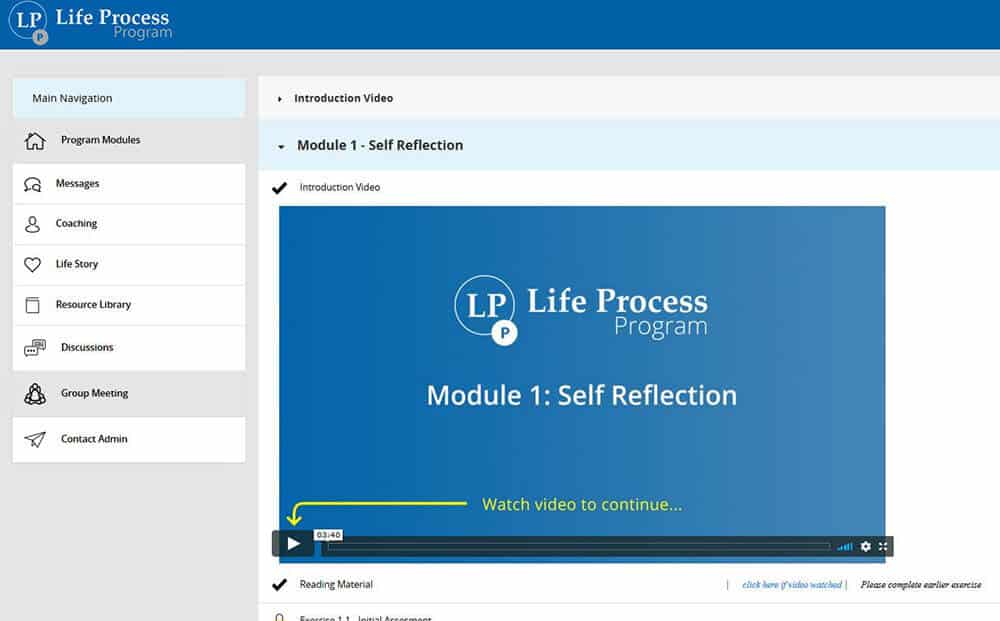 A major component in the Life Process Program is the exercises that accompany each module. You will be asked to complete a series of questions that will challenge your understanding of the ideas and how to use them to recover.
The exercises are not a test, and there are no right or wrong answers. They are open questions designed to get you thinking in ways that will help you better understand how to fight and beat your addiction.
For clients who select the Coach-led option, your coach will go through each of your exercises and provide you with detailed written feedback to help guide you through your recovery.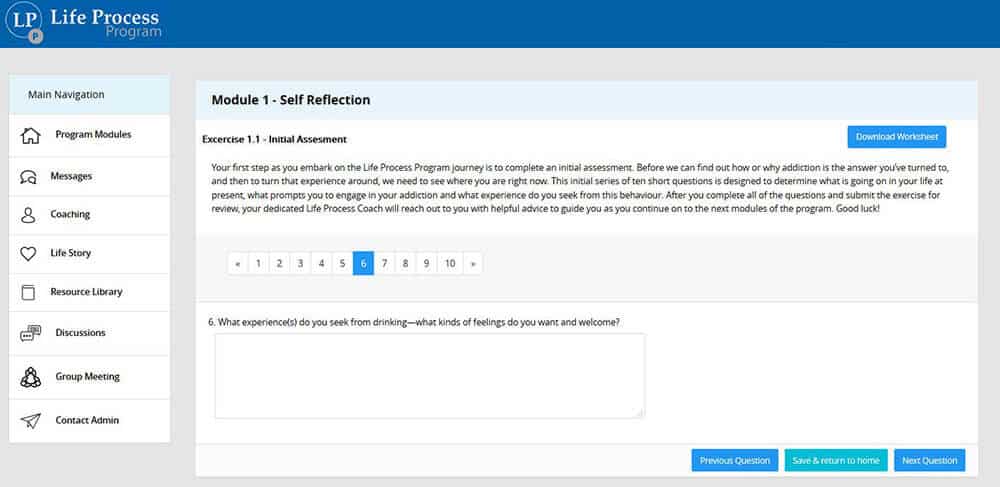 Schedule a session with your dedicated coach
Within the coaching area, you can access your coach's availability diary and schedule a 1-1 meeting. You choose the date and time that suits you, and you select your preferred format:
Video
Audio
Text/Livechat
For clients on the coach-led program, your first 20-minute introductory session is free. This is a great way to get to know your coach. After that, you can purchase additional one hour sessions from as little as $70 per sessions. These additional coaching sessions are completely optional and can be purchased at any point in the program.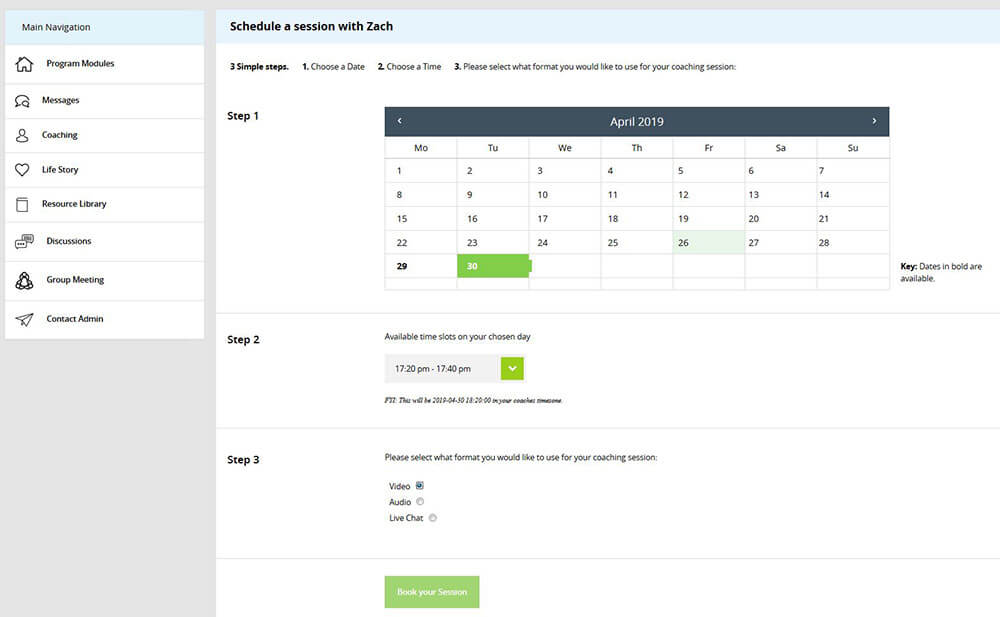 Write your Life Story
Revisiting your life's journey is a critical way to explore your choices and the impact they have had on you and those around you.
Don't worry, we are not going to start probing for trauma or ask you to dwell indefinitely on your earliest memories.  But we do believe that it is important for you to reflect on the journey that you have travelled through life to bring you to where you are today.
Once your life story is complete, we will begin to focus on moving beyond the negatives you may identify toward a positive future with the life of purpose you have always wanted.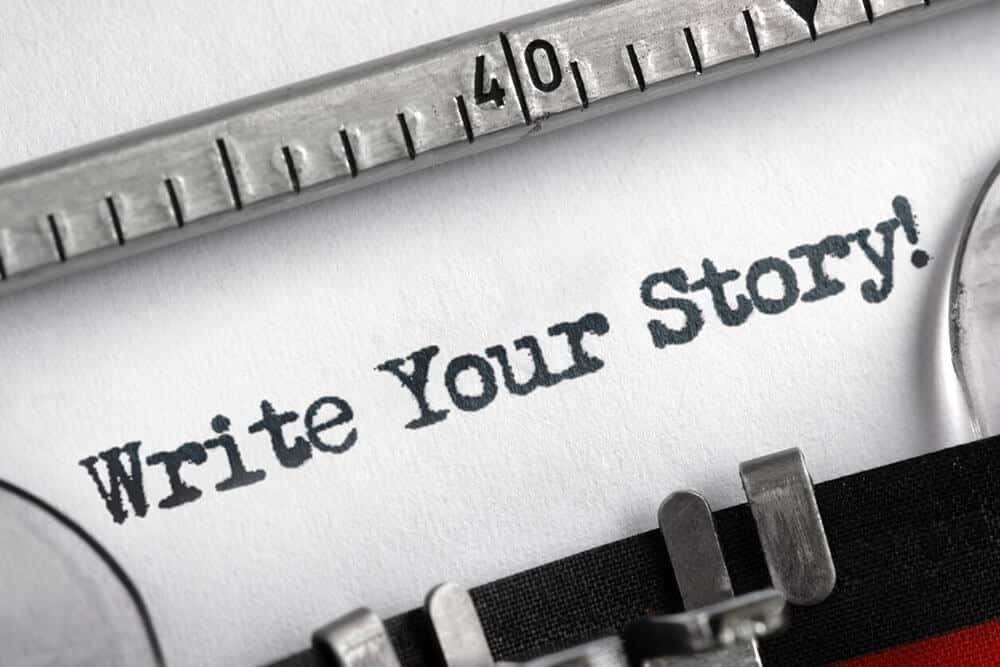 Join our coach-led weekly online group meetings
We want to provide you with opportunities to interact and practice the coping and social skills that can help you move away from addictive activities and back into the vibrant world that awaits you.
Participate actively or just listen—it's your call.
For those of you who are already meeting with coaches, we believe this group dynamic will add a new dimension of support and help people in thinking through their addictive issues with others.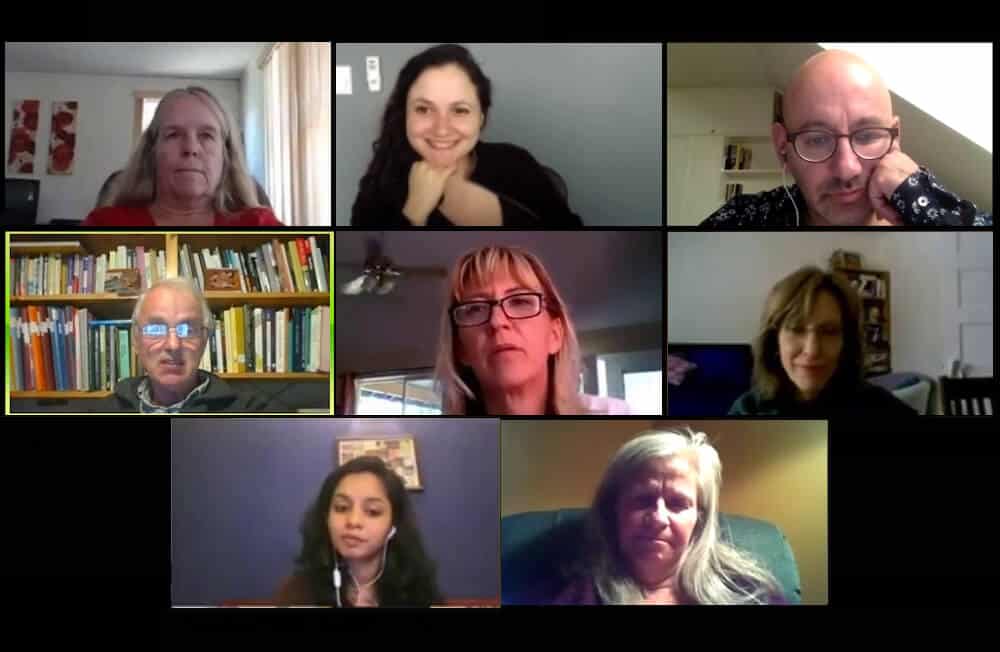 Our online addiction treatment program is built on simple human ingredients.
The 8 Module Journey
Module 1
Self Reflection
We believe that anyone, including you, can achieve recovery by creating the necessary fundamental supports in your life.  People with strong values, and with the motivation to change, succeed better at quitting addictions. You need to seek and gain these advantages that non-addicted people have. In the first module we help you assess what assets you have and what assets you need to acquire to help you lead an addiction-free life.
---
Module 2
Values
Values play a critical role in addiction, and your values are likely to be the key to your escaping addiction.  In this module we will examine values that are the most anti-addictive and how you can use your own values as a tool to fight addiction. We provide exercises that are geared toward identifying and utilizing your true values.
---
Module 3
Motivation
This module shows how critical motivation is in overcoming addiction, and reviews the best methods for energizing you to change, even when dealing with the most severe addictions. You will learn therapy techniques that have been shown to be the most effective for improving your motivation and combating addictions.
---
Module 4
Rewards
If motivation is the force that drives you to act, then rewards are what you gain from that activity. People quit their addictions when they begin to get more rewards for living without the addiction than they got from feeding the addiction. Put into economic terms, you give up your habit when you believe that its costs exceed its benefits.
---
Module 5
Resources
Overcoming addiction requires you to evaluate your strengths and weaknesses. We will help you assess what resources you already have and what resources you currently lack.  You will develop the skills that will allow you to expand your resources. Key assets in fighting addiction include supportive relationships, work skills and accomplishments, hobbies and interests and developing coping skills such as being able to deal with stress. Included in the exercise package for developing your inner resources are the critical tools of mindfulness and meditation.
---
Module 6
Support and Intimacy
Human beings are social animals. Our peers and intimates have an enormous impact on our perspectives and our behaviour. We respond in both positive and negative ways to those we are intimate and live with. In this module we explore skills and strategies for creating the support network that can help you lead a fulfilling, addiction free life. You will explore here your past relationship traumas and how these can create anxieties to overcome in your current relationships.
---
Module 7
A Mature Identity
Overcoming addiction requires growing up and assuming adult roles. And to mature, you need to do more than simply get older—you also need to experience life and learn its lessons. In Module 7 we look at tools and strategies for developing a new version of yourself; one which does not call attention to your addiction and one where addiction does not define who you are.
---
Module 8
Greater Goals
The most successful strategy for tackling addiction is to see yourself as an active participant in the addiction and its solution. Your selection and pursuit of goals is among the best ways to make sure you overcome and avoid addiction. In this final module we help guide you towards setting and keeping track of goals as you pursue a life full of meaning and purpose.
---
About Dr. Stanton Peele
Stanton Peele is a psychologist who has changed the addiction field.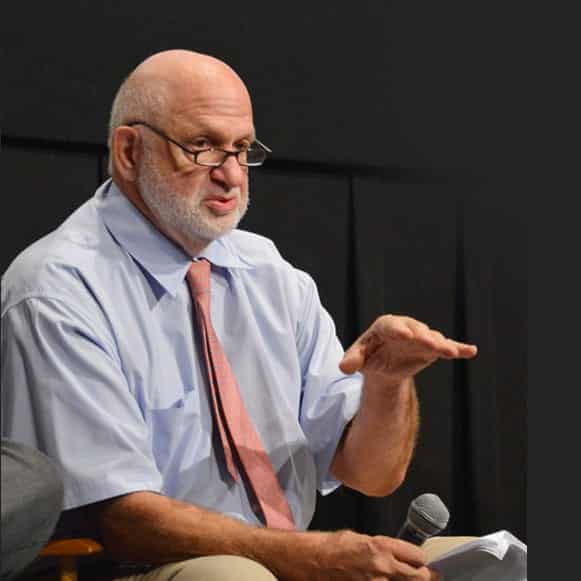 He is a world-renowned addiction expert, author and therapist, who has remained prominently at the forefront of the addiction field for four decades, challenging and changing the way people understand addiction and recovery.
He has pioneered, among other things, the idea that addiction occurs with a range of experiences, recognition of natural recovery from addiction, and the harm reduction approach to addiction.
Meet The Coaches
Our experienced LPP coaches are dedicated to helping your through the program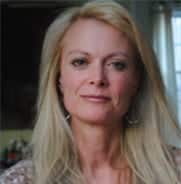 Anne
A licensed social worker, Anne began over-drinking to block out humiliation, anxiety, loss and to manage anger during a financial downfall and difficult divorce from a 25 year relationship. Anne was introduced to the world of Harm Reduction after the tragic death of her nephew from an overdose. Helping others regain hope, resilience, purpose, and navigating loss of all kinds became her passion.
---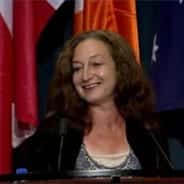 Dee
Dee has personal experience with addiction and her goal is to bring encouragement and hope to others who are struggling with an addiction. She has served for more than a decade as director of SMART Recovery. Dee is the resident host of our weekly online group meetings (which all our members are encouraged to attend), and she is an active member and moderator on our private members-only Facebook Group.
---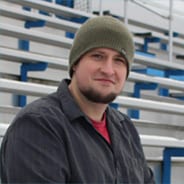 Zach
Zach once battled addictions of his own – including a destructive involvement with opiates – he now lives a healthy and happy life with his wife and daughter in Vermont. Zach is a columnist for Filter Magazine and looks after the Life Process Program Podcast. Using a very non-judgemental approach, Zach is passionate about helping people understand themselves better and how their addiction may be holding them back from living the life they wish to lead.
---
Our clients tell it best
Here's what our LPP members are saying about the program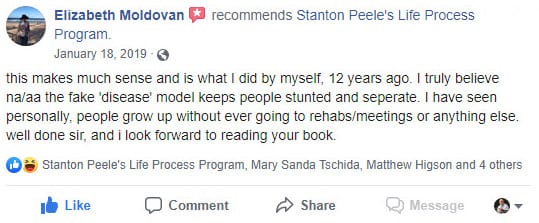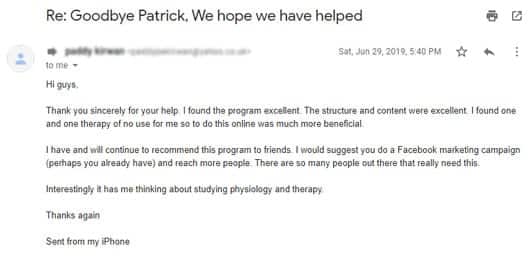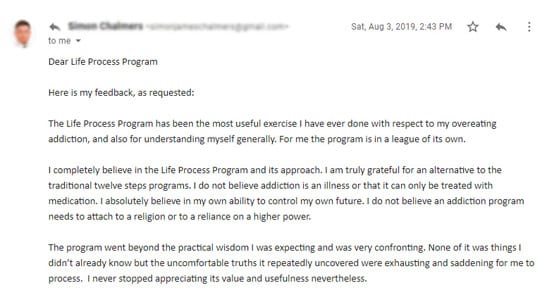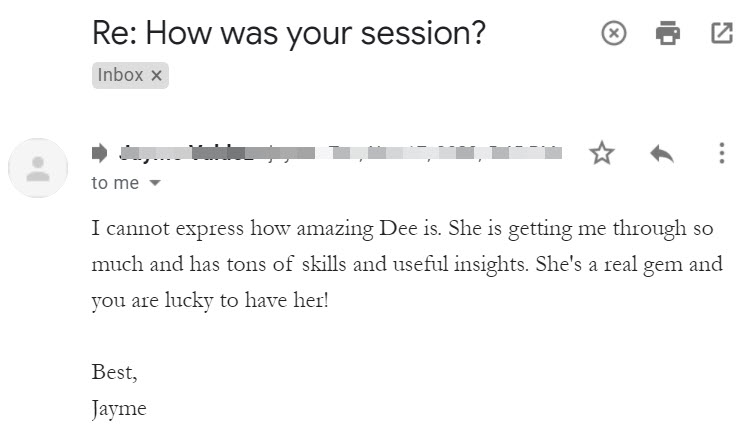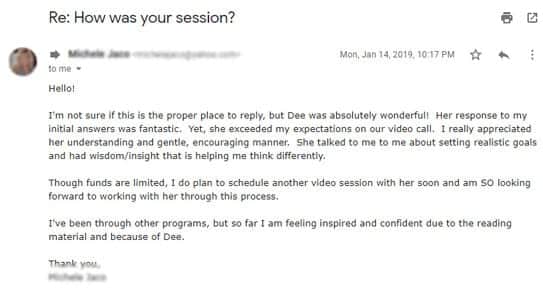 Pricing
Access our life changing treatment program from only $29/month.
Features
Self-Help

(Basic)

Self-Help

(Premium)

Coach Led

Access to all 8 Modules including videos, reading materials and excercises

*

Option to purchase and schedule one-to-one coaching sessions with a Life Process Program Trained Coach
Access to the "life Story" journaling Feature
Access to weekly coach-lead online meetings
Access to private members-only Facebook Group
Assigned a dedicated Life Process Program Coach throughout the program
Free initial one-to-one consultation with your dedicated coach
Receive Feedback from your coach on every exercise
Modules and Exercises customised to your specific addiction
Price
$29/month
$39/month
$89/month
*The Coach Led program is designed to be completed over 4 months and users can complete and receive feedback on up to two modules per month, with an option to upgrade to FastTrack through the program.
FAQ's
You have a question? We have the answer.