Why Shouldn't you be Punished for Smoking Cannabis?
Why relying on disease or trauma in order not to punish people harms more than it helps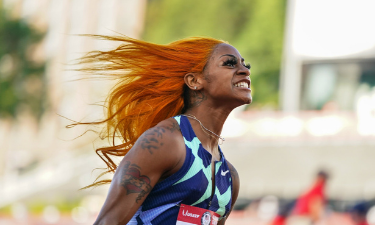 In an international cause celebre, Sha'Carri Richardson, perhaps the fastest woman in the world, tested positive for marijuana, upsetting her participation in the Tokyo Olympics. 
Along with her being an African American woman, another cause for the outcry over Richardson's suspension was the reason she gave for smoking cannabis — she had just learned of her mother's death.
Before turning to that issue/explanation, we should first note that Richardson smoked the marijuana in Oregon, where non-medical marijuana use is legal. In the second, she wasn't stoned when she ran. This was behavior at home, off hours, in her own personal life.
Richardson, understandably concerned to defend herself and her career, publicly explained that she used marijuana to deal with the death of her biological mother (she was raised by her grandmother). She said she was shocked when she learned about the death from a reporter during an interview. Richardson called it triggering and "nerve-shocking."
We can all understand that. But did she really have to justify her smoking marijuana legally at all? What if she was just relaxing after a tough day of practice or competition, like some people do with a glass of wine? If that were the reason should she be kicked out of the Olympics? "I confess: I smoked marijuana on my personal time because I was tense and wanted to relax."
Carl Hart, in his book Drug Use for Grown-Ups, describes his drug use on nights before he has a grueling meeting. Carl is obviously productive. His drug use harms no one. He is making a plea (as the subtitle of his book indicates) to establish individual liberty in a land where drug use is feared beyond reason and people must defend themselves against life-altering consequences.
I don't want to minimize Richardson's feelings. But those are hers to pursue. The death of a person's mother is something most of us will experience. It's a life event, not a mental illness. Regarding it as an emotional disorder is part of a proc s has n American lives fee of regarding every unpleasantness or challenge (e.g., onset of puberty, or menopause, a personal reverse, death in the family, etc.) as a mental illness. 
Which is where some of the defenses of Richardson's normal, legal behavior went. According to some commentators, Richardson was dealing with mental anguish. I would say that she was just living her life, which casts stones at all of us sometimes.
It isn't necessary to rank her pain or trauma. She hurt nobody and gained no competitive advantage. Casting her ordinary behavior into the realm of a potential mental disorder is one more example of how modern life has been made into one big clinical experience, instead of just normal life, with all of its feelings and adjustments.
Richardson should be allowed to smoke marijuana as a source of comfort, relaxation, fun, enjoyment (say it included having sex or eating) as a normal right any human being has, without having to explain or justify it.
As Carl Hart would point out, it's simply a human right.